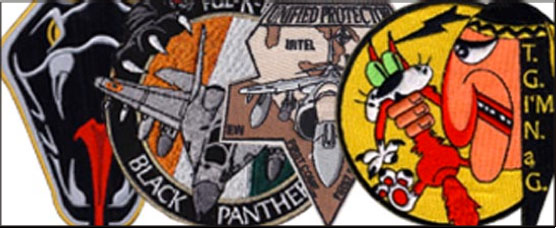 OKB01 laser / hot knife shaped patches means a unlimited creativity for your patches.
As other OKB01's patches, they are 100% embroidered, high or low visibility and, if requested, faded thread effects.
Our standard production has male velcro as standard and it's up to customer ask for a velcro-free patch (with PVC backing).
There is very small minimum quantity to order: OKB01 will easily manage from 25 to thousands pieces to satisfy customer's strictly demanding needs.
About payment methods, we have many economical solutions personalized and sized up for Squadron s and Administrative specific needs.
Contact us, we will be honoured and proud to collaborate with your Unit.
Following images are only part of our patch production.
To unease and deny following patches unauthorized use from third parties, imagines quality is low.
Solo per le FFAA italiane:
A seguito del Decreto Legge 162 del 25/7/2012, non è possibile per noi produrre, vendere e fornire i distintivi ufficiali delle FFAA. Solo le ditte convenzionate con Difesa Servizi S.p.A. ne hanno facoltà.
OUR PRODUCTION PATCHES COULDN'T BE BOUGHT BY COLLECTORS FROM THIS SITE.
no images were found